Maureen Bergquist Gray
Interlochen, Michigan
Created in 2013
Material: steel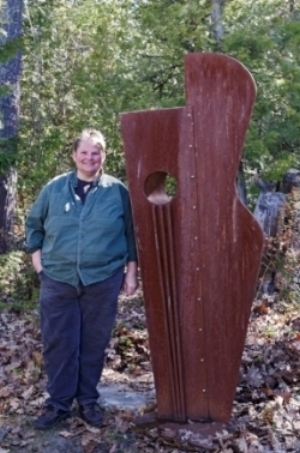 ""My sculpture is the expression of the universal energy that I tap into. This is the energy that flows through and around each one of us. I depend on the natural forces around me to be my guide, the energy of the material, the whisper of the wind, the ancient ones coaxing me onward. It is my privilege to listen. If my visual description is persuasive the viewer will see a glimmer of light radiating from these forms and then look within themselves for meaning creating their own version of this age old story."
"By creating I am seeking illumination and clarity in a time when neither is easily accessible. Being a sculptor is my attempt to reach beyond my barriers, either real or imagined, physical, mental or spiritual. It doesn't matter. I do not need to explain my reality to you. What I must do is open a door for you to experience a new reality. Some people will understand and some won't, this is irrelevant because the interaction between art and viewer has already taken place. One must trust their own instincts as to what good art is.... that is the challenge."
Her sculptures are designed with a CAD program and then cut with a computerized plasma cutter. The pieces are then welded together, and in the case of Musician, allowed to patina.
Gray's work is displayed in several outdoor public art exhibits.
Approximate dimensions and weight:
4' wide, 8' tall, 2' deep
350 pounds
$3500
For further information about the purchase of this sculpture, please contact us.